A dreamy night full of surprises at Zoga restaurant
June 17th come to Zoga on Tinos
On Sunday, June 17, Zoga, which has become the point of gastronomic reference on Tinos, welcomes summer in all its forms in a special evening full of surprises and with an extremely impressive and incredibly tasty menu. Unique dishes, inspired by the Cycladic cuisine and the Aegean Sea, accompanied by selected wines and cocktails all compose a unique tasting experience all under the impressive Tinian sky!
Enjoy exceptional starters like bruschetta with partly sundried cherry tomatoes, marinated anchovy and tarama (fish roe dip). Allow yourself the chance to taste the prawns with sundried tomato paste, prawn tempura with honey and sesame, octopus with chickpea dip from Santorini and white balsamic dressing, squid with olive paste, sea bass fillet served with aubergines stuffed with vegetarian Bolognese and sweet potato mash from Naxos; all freshly caught from the Aegean seabed and skillfully prepared by our awarded chef! Naturally, the selected menu should include traditional trachana cooked in white wine, feta cheese, and squid. As for the salads, the chef suggests the amazing and refreshing "Papaioannou" and "Zoga" salads with natural Tinian products.
As for the drinks and cocktails, all is prepared by Zoga's incredible bartender who will thrill you with his unique concoctions and amazing inspirations. We strive for your contentment, so do have a look at some of our popular libations: ZOGA (gin, cucumber, lemon, mastic liqueur and fresh ginger) a summer drink which will bring back vacation memories triggered by the mastic flavour, LADIES FIRST (black rum, malibu, strawberry puree, lemon, simple syrup, and cranberry), one of our top cocktails. Black rum blended with coconut and the sweetness of strawberry, are the main ingredients which will elevate your senses.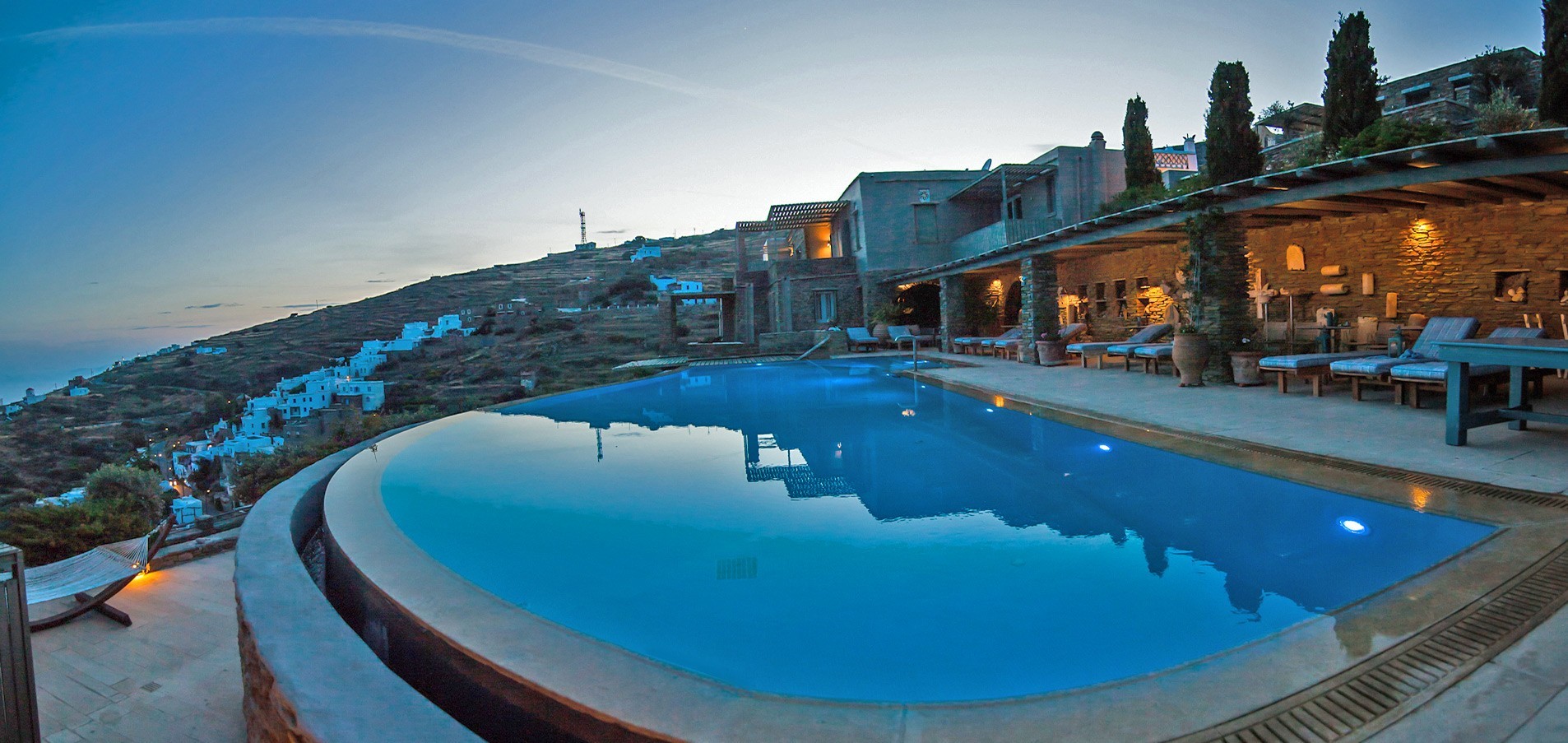 Enjoy this unparalleled party of flavors and aromas prepared by our chef next to the enchanting pools of Aeolis whose optical fibers imitate the stars and give you the feeling of a sparkly sky. Let your spirit and senses run free while accompanied by jazz music. After all, for connoisseurs "jazz" means complete expression of freedom.
Of course, we did not forget the traditional sweets at the end that consist of… ummm, we cannot disclose everything now, can we? Because summer wonders will take place on Tinos once again, there are loads of miracles transpiring in the new Zoga restaurant of the Aeolis Tinos Suites hotel!